Keeping it clean
Continued maintenance of your curtains, blinds and shutters will improve the aesthetic and longevity of your much-loved window furnishings.
Read below for information on how best to care for your wonderful windows and feel free to contact us if you require more information.
Curtains
It is important to understand the inherent limitations of certain fabrics as well as the invisible influences of the environment in which the draperies hang. These will affect the life and appearance of your draperies. Please take a moment to read the following information so that you will have realistic expectations and be better equipped to protect the investment you have made in your home by adding custom draperies.
Maintenance
Maintenance of your draperies involves routine vacuuming with the dust brush attachment on your household vacuum cleaner. Depending upon dust conditions, local construction, cooking habits, and other factors, you may wish to do this every three to four months.
Cleaning
After months and months of exposure to dust, cooking residues, and other environmental pollutants, your draperies will need to be professionally and thoroughly cleaned. Dry cleaning is recommended for draperies and sheers. Most draperies should be professionally cleaned after 2-3 years (most sheers every year). Of course, environmental circumstances and other factors vary, thereby affecting the recommended cleaning interval. Nevertheless, the investment you have made in your new draperies is worth protecting. The dividend will be years of enjoyment for your family and for guests in your home.
Detailed cleaning instructions are printed on a label which will be sewn into the end pleat at the top of one of your curtains.
Invisible Enemies of your Draperies
Today's fabrics are lovelier and longer lasting than ever before, but each one has its own set of limitations based on the fibre content. There are various levels of quality and durability in all natural and man-made fibres.
In addition to the limitations of wearability of the fibres themselves, there are various invisible enemies which are constantly attacking the fibres of the material and affect the product life.
Sunlight
Constant exposure to the bright UV rays of the sun will weaken the strength of most fibers over time and can also cause varying degrees of color fading or streaking. First signs of sun damage may include hem threads. Later and more severe effects could include dry rotting of the fabric itself. Drapery lining, solar window tinting film and/or constant use of shades or blinds behind the drapery will reduce these negative effects of sunlight.
Humidity
Humidity will affect fabrics differently. Loosely woven fabrics may be most likely to show the effects of humidity changes by either shrinking or stretching.
Shrinkage
Some shrinkage in draperies can be expected after cleaning if the fabric has not been completely preshrunk. In most cases, shrinkage is normal. Even in the event of significant shrinkage, draperies can often be lengthened by adjusting the hems.
Water Stains
Condensation on windows will occasionally cause drapery fabrics to become watermarked. There is no guarantee that such water stains can be removed; however, in some fabrics, this can be accomplished.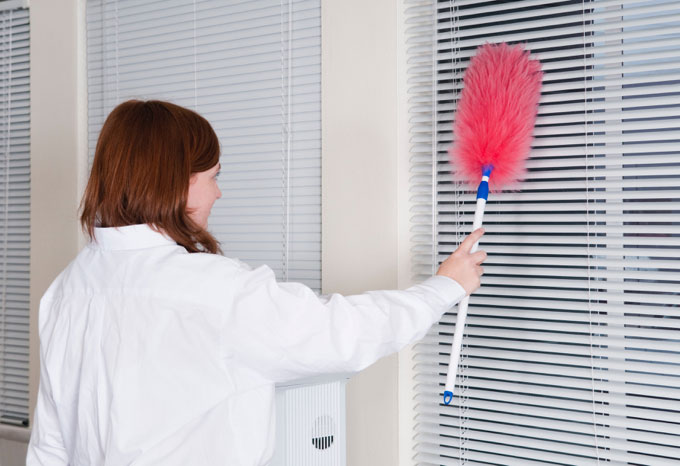 Shutters
Caring For and Cleaning Your Shutters
Care must be taken when cleaning your shutters. Generally, dust may be easily brushed off at regular intervals. Tilt the louvres almost all the way in one direction. Using a feather duster, soft cloth, dust mitt, or vacuum cleaner with a soft furniture attachment, clean each louvre individually. Then flip the louvres in the other direction and repeat. This can prevent dirt from accumulating and damaging the finish if done regularly.
To remove more significant dirt build-up, wipe louvres with a damp cloth. Add mild liquid soap if necessary. Any cleaning product that contains abrasives or caustic components should not be used, as it can adversely affect the finish. We recommend that you NEVER immerse your shutters in water, as this can affect the paint and cause the timber to warp. Do not apply any furniture polish or wax, as this may also affect the lacquered finish. With regular maintenance, your shutters should last and look like new for many years to come.
Acceptable Standards
The acceptable standard for imperfections, marks, dots etc. on the final job is – if it is visible with the naked eye, in natural daylight, at a distance of 1.2 metres, it is not acceptable. If it is not visible with the naked eye, in natural daylight, at a distance of 1.2 metres, it is acceptable. Small knots and/or grain pattern are never considered to be imperfections, as they are a natural part of the timber.
Cleaning and Care
The surfaces of the OPC Fauxwood and Timber Eco Shutters will collect a layer of dust over
time.  Normal and regular dusting with a soft damp cloth will remove this build up.
If further cleaning is required then wash with mild soap (mild household dishwashing liquid),
water and a soft cloth.  Ensure the surfaces are then dried off with a soft cloth.
For stubborn dirt and stains use a mild, water‐based household cleaner only.
Never use harsh cloths, harsh abrasives, chlorine or ammonia based chemicals or cleaners on
the OPC Fauxwood and Timber Eco Shutters surfaces as they may affect the surface appearance
and longevity.