We all know window blinds in Perth are great for keeping out heat and light but unfortunately, they can also be good at collecting dust and possibly even stains. You shouldn't worry however, because whether you have roller blinds, venetians, verticals or romans, you can keep them looking fantastic and in perfect working order by having a very simple cleaning and maintenance routine.
Knowing how to best clean your blinds can be confusing. Whether they are fabric blinds, wooden or another material, different blinds can have different cleaning methods. Below are some general cleaning tips to keep in mind regardless of what type of blinds you have.
Firstly, it's important to try and not let moisture settle on your blinds as this can lead to mould build up, which is even harder to remove.
Secondly, when wiping your blinds use a damp, clean cloth rather than something overly moistened. This way you'll have more grip on the blinds and be able to remove debris and dirt more efficiently.
Finally, it's ideal to clean your blinds lightly once a week, while a deeper and more detailed clean should be done once a month. This will help keep them in their prime condition.
We know this can sound like a bit of work, but it will pay off in the long run! To help you, we've put together some handy cleaning hints for your blinds below.
How to Clean Roller Blinds
Fully draw your roller blinds down exposing the fabric.
Use a vacuum, ideally with a brush tip, to vacuum over the entire surface of the blind (front and back).
Use a damp cloth to remove any stubborn debris or stains off the roller blind. There's no need to use any harsh chemicals.
Allow the roller blinds to fully dry before you pull them back up.
How Best to Clean Venetian Blinds
The best way for cleaning your venetian blinds depends on the type of material they're made from. Venetian blinds can come in the form of Timber, PVC or Aluminium. How you clean your wooden blinds for example, will differ slightly to how you would clean aluminium or PVC. To help you out we've put together a step-by-step guide on how to best clean the different types of venetian blinds.
How to Clean Timber Venetian Blinds
Ideally you don't want to expose timber venetians to any water, as it can warp the wood.
Go over any stains with a paper towel or a clean, soft cloth.
If that doesn't do the trick you can try an actual wood-cleaning chemical. Apply a small amount of the wood cleaner to a soft cloth and gently rub the stain away.
Once you've spot-cleaned your wooden venetian blinds you can move on to giving them a good, thorough dusting. Either a feather duster, or soft cloth should work.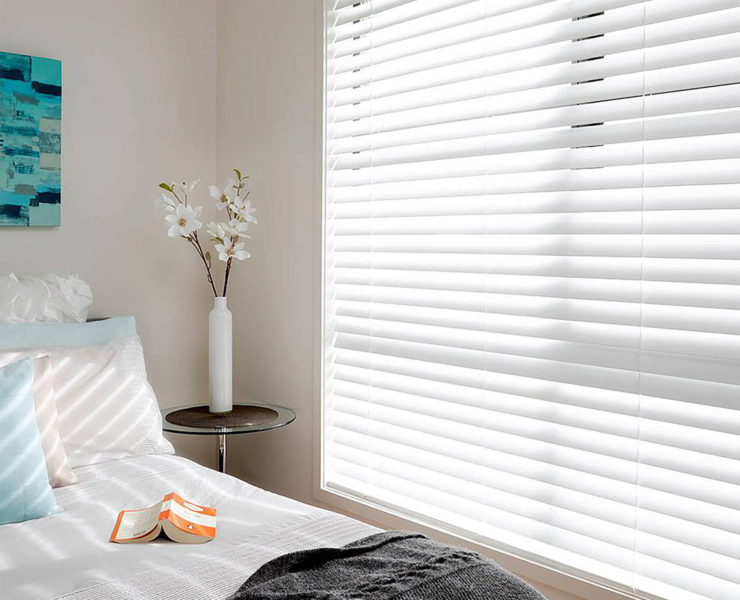 How to Clean Aluminium or PVC Venetian Blinds
The process is similar to timber venetians, except with Aluminium or PVC blinds you should be able to be a bit more aggressive with your cleaning program.
Go over any stains with a damp cloth, and if need be try a bit of soap and water or a conventional cleaning spray.
If you would like you can then vacuum the slats of your blinds using the soft brush that can be attached to the hose. Run it very lightly over each slat but be sure to do a quick check on the first slat to make sure it isn't inadvertently scratching the surface.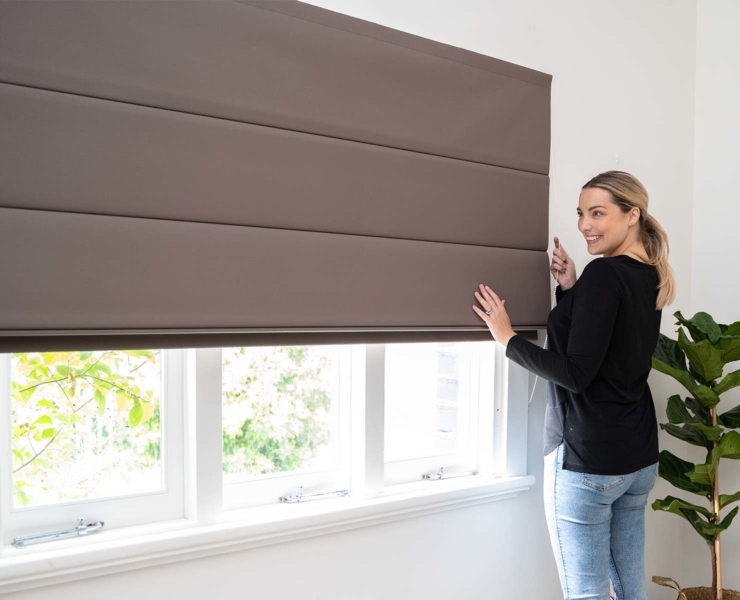 How to Clean Roman Blinds
If your Roman blinds are looking a little worse for wear, it's usually because they've accumulated a good deal of dust. To help with this, simply use the brush attachment on your vacuum to give the blind a once over. You can even use a dust buster to get to those hard to reach places.
If your Roman blinds have a stain, you can try blotting it away with a damp cloth and warm water.
Make sure the blind is completely dry before retracting it, as a wet blind could lead to mould build up.
How to Clean Vertical and Panel Glide Blinds
To remove dust off your vertical blinds, try a soft brush attachment for your vacuum cleaner. Be sure to give each slat a once over, front and back.
For a more rigorous clean and to remove any stains, use a damp warm cloth and possibly even dish soap. Firmly wipe down each individual slat from top to bottom, you may need a step ladder to get to those hard to reach places.
Now you know how best to clean your blinds, no matter what type you have in your home. Sometimes however, blinds can be severely damaged or stained in which case cleaning them may not be an option. In this instance, CurtainWorld has you covered with an array of high-quality, affordable and stylish blinds for sale in Perth and throughout WA. You can peruse our range of blinds, curtains and shutters here.