Whether you're looking to completely revamp your rooms or add a stylish finishing touch to them, our blockout curtains could be the perfect product for you.
As one of Perth's leading curtain suppliers, we also offer custom made blockout curtains, allowing you to add a personal touch to your rooms. View our range below!
The best Blockouts in Perth!
We've been making curtains in our own Perth factory since 1974.
Latest Trends

CurtainWorld remains at the forefront of the soft furnishings industry offering the latest curtain trends. Our huge range offers versatility to every home environment.

Light Control

We offer a variety of fabrics and lining options that allow as much or as little light into a room as you'd like.

Quality Craftmanship

CurtainWorld's range contains the highest quality materials and all our curtains are manufactured locally in our Malaga showroom.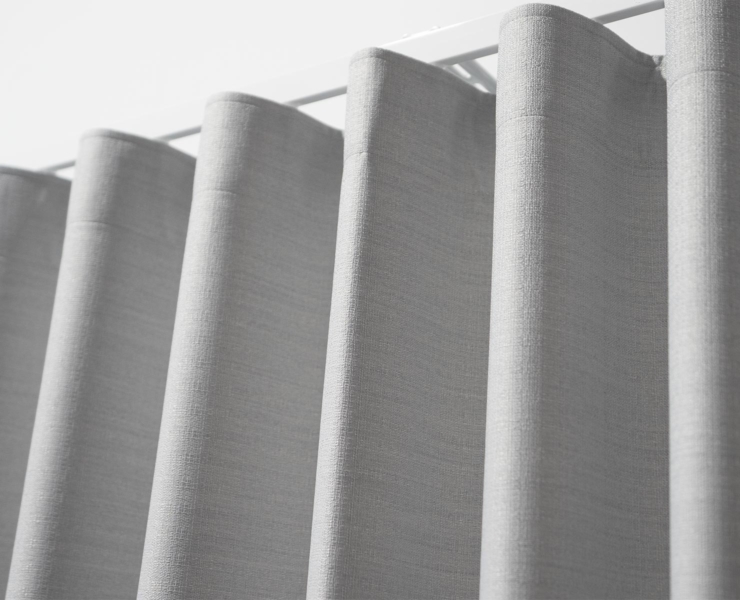 Make a statement
Custom Made Blockout Curtains
Like all our curtains and blinds, our blockout curtains come in an array of designs, colours, and fabrics, meaning you won't struggle to find versions that are the perfect match for your home. From bold blues and radiant reds, through to subtle and soothing creams and greys, we have it all. You can also choose between elegant plain designs and curtains featuring intricate patterns.
Temperature Regulation
As well as offering 100% control over light levels, these products help to regulate the temperature in your home. In spells of cool weather, they can help to trap warmth. Meanwhile, during the long hot summers, you can draw them to create shade in your rooms and to keep them cool. Blockout curtains also offer complete privacy whenever you want it.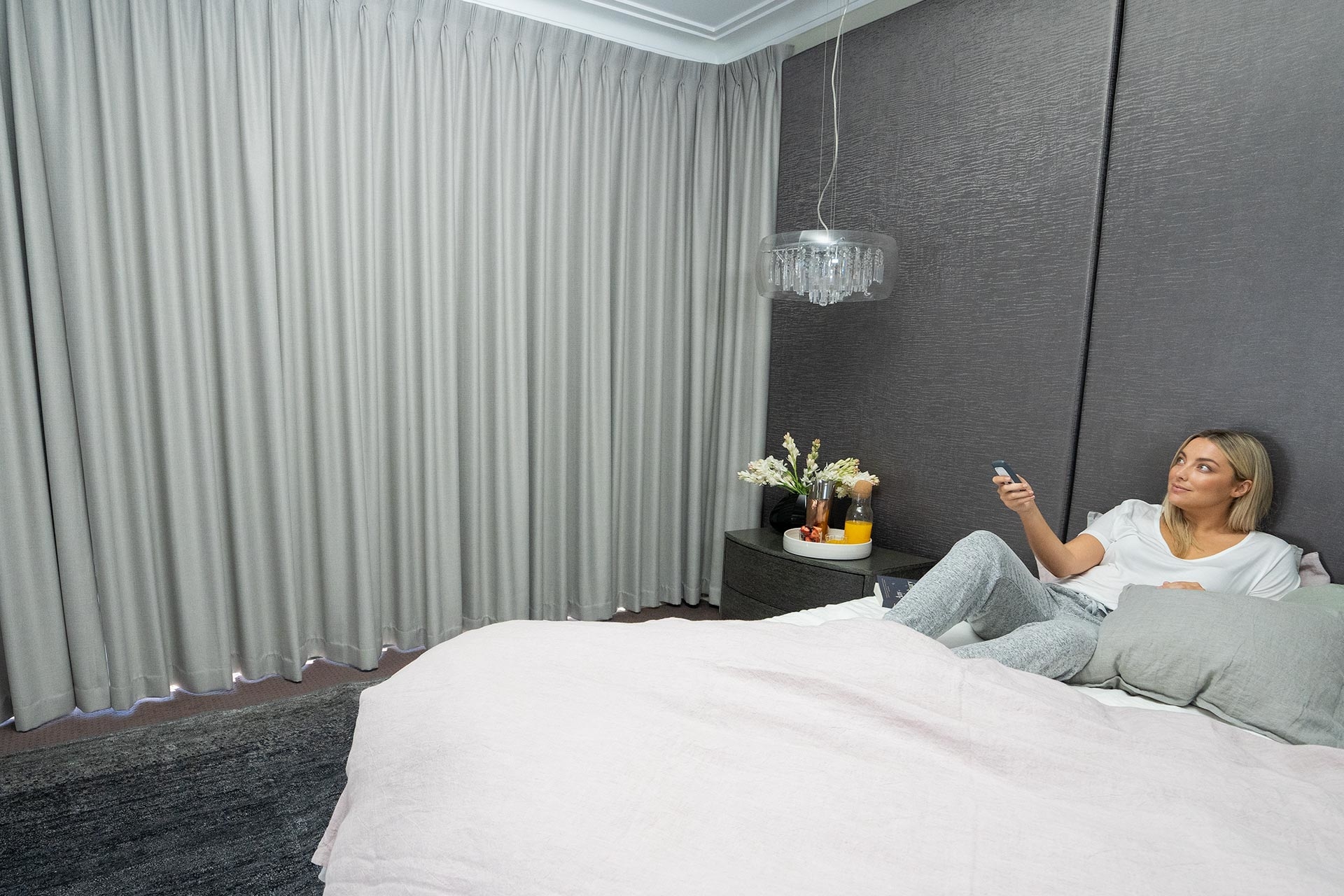 Light Control
The best thing about blockout curtains is that they look great and are highly practical. As their name suggests, they block out light from outside, meaning you have complete control over the level of brightness in your rooms. This makes blockout curtains a particularly popular choice in nurseries and bedrooms, but they work equally well in all other parts of the home.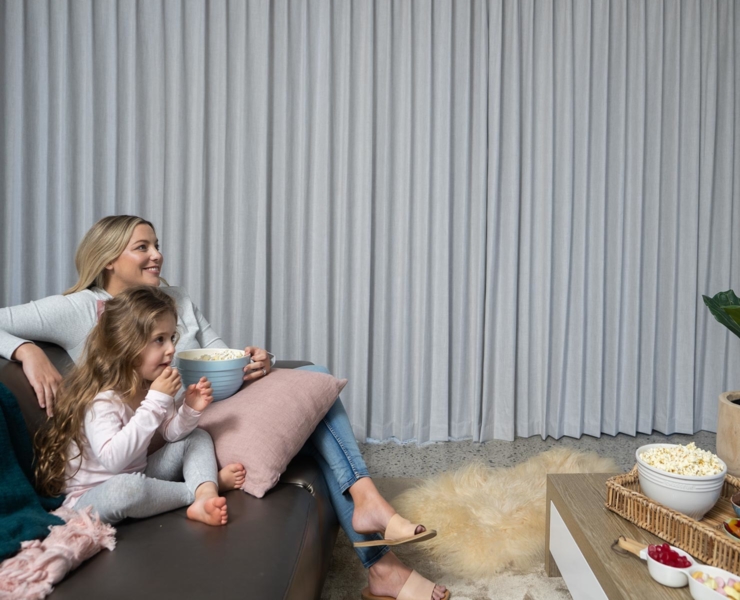 Perth's locally produced Blockout Curtains
Given their attractive appearance and practical benefits, it's no surprise that these window dressings are proving so popular right now. If you think blockout curtains would make the ideal addition to your rooms, take a look around our website or come to our showroom in Perth. Alternatively, you can arrange for one of our on-road consultants to visit your home with our full range of fabrics.
Have questions?
Our expert consultants will bring our entire range to your home and assist with your technical and decorating needs. Our advice is based on years of experience and all products are custom made to your unique specifications.
Or you can call us on 08 9249 4800
Significantly. Blockout curtains are designed to blockout the sun and protect your furniture, flooring and valuables from damage as well as those prying eyes. There may, however, be some light seepage. Speak to your sales consultant about your specific needs and we can tailor a solution for you such as adding a pelmet or a blind behind the curtain to minimize excessive light entering the room.

All of our curtains have a care instruction label sewn into the heading. This is usually found on the last pleat at one end of the curtain. This will tell you specifically what type of cleaning is suggested for the type of fabric you have. Your curtains should not require a lot of maintenance however regular light cleaning will not harm them. Always support the fabric from behind and either use a clean duster or light vacuum brush (avoid the harsh brush attachment) on a low setting. If you do need to spot clean, then remove any marks as soon as possible with a clean cloth and mild detergent in warm water. Never scrub the curtain as it may distort the surface or pattern, but rather dab it. When dry you may need to repeat with clean water to remove any soapy residue.

We have been making curtains in our own factory here in Perth since 1974. We moved to our current Malaga facility in 1989 where we still custom making all our curtains individually. Why not come into our Showroom and get a firsthand look through the showroom windows out onto the factory floor.

Of course, you can. If you are handy or maybe know someone who is then there is no reason why you can't collect your curtains and fit them yourself. We can often have them ready for you well ahead of standard install times if you choose to do your own installation. We will provide you all the necessary brackets and can advise on the correct wall fixings depending on what you are fitting into.

Absolutely! For information on child safety laws please visit our dedicated Safety Page.