Keeping your family safe.
All our curtains and blinds are manufactured and installed with the safety of children in mind. By law, all window treatments must be installed as child safe, regardless of whether you have children living in the house or not.
All products sold and installed by CurtainWorld are compliant to the strict child safety guidelines as laid down by the Australian Competition and Consumer Commission.
If you require any additional support then don't hesitate to contact the team at CurtainWorld.
Cordless Operation System
CurtainWorld's extensive motorisation range provides a range of convenient yet affordable solutions for both domestic and commercial projects. Somfy and Rollease Acmeda offer the convenience of lithium-powered battery systems for Roller blinds as well as hard-wired options for Curtains, Roller blinds, and Outdoor Products.
Our Curtains, Vertical Blinds, Panel Glides, and Veri Shades can all be controlled by manual wands, negating the need for any cords thus reducing the risk of child entanglement.
Honeycomb blinds are available in a cordless option, which can be a great solution when there is no physical place to secure cords.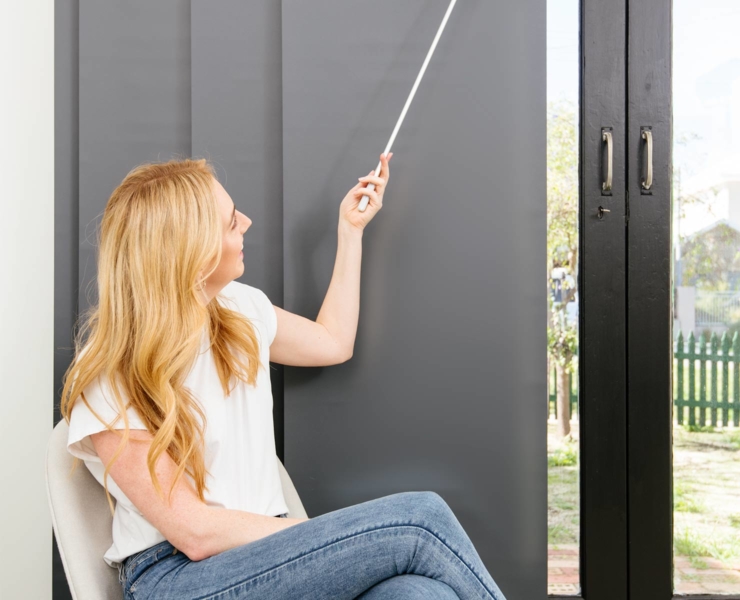 Child Safety Devices
Regardless of whether CurtainWorld is doing your installation or you are doing it yourself Curtains and Blinds with cords or chains must always be secured with a child safety device or a cord tensioner. These chains and cords if not secured can pose a potential strangulation hazard for small children.
The installer will install the correct device for the product you have ordered as part of our service. If you are installing your own products the child safety device will be provided and instructions included.
Customer Responsibility
There are a number of things you can do as a customer to ensure your blinds and curtains are kept safe for children.
Whenever the blinds are in the open position the cords on certain blinds will become longer. Ensure that any cords or chains are kept out of reach of children by using the Child Safety Devices provided.
Ensure you keep furniture away from your windows that children could use for climbing.
Never tie loose cords up out of the way or tie extra knots in the cords, as this can form unwanted loops in the cords.