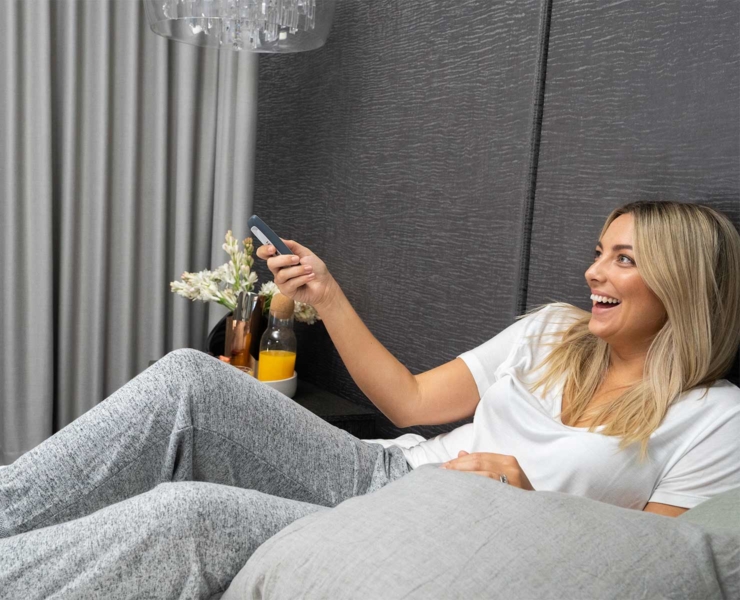 Enjoy the Complete Convenience of Motorised Curtains

Motorised curtains are the ultimate when it comes to luxury and convenience. Just imagine, lying in bed and letting your smart home device know that you're ready to start your day. Immediately your curtains open helping your day get off to the perfect start. Or when its bedtime clicking a button on your remote and the drapes close, giving you ultimate privacy and darkness ready for that sleep-in.
CurtainWorld has partnered up with some of the world's leading brands associated with curtain motorisation, so you can rest easy knowing you're in safe hands!
Experience smart
Enjoy a smart home experience by motorising your curtains.
Convenience

Enjoy ultimate control at your fingertips by motorising your blinds. Use your remote, door switch or even voice-controlled smart device to control your window decor.

Efficient

Reduce your energy usage by controlling the amount of heat and light entering your home.

Comfort

Set up timers and clocks to automatically manage the changing temperatures of your house.
Take Your Home's Style and Convenience to the Next Level
Having complete control of the environment we create within our homes and offices is essential to our health and well-being. With this in mind, why not take convenience to the next level with motorised curtains.
Our brand partners Somfy and Rollease Acmeda are experts in providing automated solutions that enhance convenience, safety, thermal comfort, and energy efficiency.
Whether you're after chic motorised sheer curtains or our quality motorised blackout range, you can choose from our extensive range to suit your home's style and needs.
Why Go Motorised?
Safe and sound
We do everything possible to keep our kids and pets safe from harm, having motorised curtains is the next step to protect your family and make your home that much safer.
Convenient and easy
Well, this one is kind of self-explanatory! Open your drapes from the comfort of your couch or bed with either a remote or even the sound of your voice.
Voice control 
Imagine opening your curtains from the comfort of your bed, our amazing motorised options can make this a reality for you. They even have the ability to connect to your smart home device and be voice-activated.
Get in Touch
If you'd like more information on our incredible range of motorised curtains, get in touch with our friendly and professional team. You can also visit our showroom in Perth or arrange for one of our consultants to visit your home, where you'll be able to see our entire range of motorised curtain options up close in the comfort of your own home.
Have questions?
Our expert consultants will bring our entire range to your home and assist with your technical and decorating needs. Our advice is based on years of experience and all products are custom made to your unique specifications.
Or you can call us on 08 9249 4800
Unfortunately, it is not possible to retrofit a motor to existing curtain tracks. The track will need to be replaced, as the entire track has intricate mechanisms within it that contribute to the motorised function.

Not necessarily. In some hard to reach places, we recommend hardwiring as charging is not possible, however as Li-Ion batteries have now become so advanced the wireless motors are a good option. In some cases, the weight of your blinds may require the strength of a hardwired motor.

Somfy offers world leading performance with the range of Sonesse ultra quiet motors. Part of the Somfy family of Blind motors the Sonesse motor uses patented technology to dampen noise and vibration to deliver a new standard in acoustic control. The Sonesse range is available in both wired technology and RTS radio technology motors.

All of our curtains have a care instruction label sewn into the heading. This is usually found on the last pleat at one end of the curtain. This will tell you specifically what type of cleaning is suggested for the type of fabric you have. Your curtains should not require a lot of maintenance however regular light cleaning will not harm them. Always support the fabric from behind and either use a clean duster or light vacuum brush (avoid the harsh brush attachment) on a low setting. If you do need to spot clean, then remove any marks as soon as possible with a clean cloth and mild detergent in warm water. Never scrub the curtain as it may distort the surface or pattern, but rather dab it. When dry you may need to repeat with clean water to remove any soapy residue.

We are western Australian owned and operated and all of our curtains are manufactured right here in Malaga.