Enjoy Somfy Motorised Blinds in Your Perth Home
From the first roller shutter motor in 1969, marking the end of the crank handle, to smart home connectivity, Somfy has spent the last 50 years assisting and making life easier for millions of users around the world. Sold in 57 countries Somfy has lead the industry with European (French) designed innovation. CurtainWorld has proudly partnered with Somfy to deliver cutting edge automated solutions for your home. Enjoy futuristic technology applied today to your curtains, blinds and outdoor blinds. CurtainWorld is an approved Somfy Expert.
Motorise your world
For ultimate convenience look no further than Somfy
Protection

Provide protection to your furniture and carpet from the sun's rays.

Voice control

Control your blinds and curtains with just your voice.


Shhh

The motorised curtain systems is developed to be quiet and reliable, guaranteeing you a peaceful home.
Somfy provides the ultimate convenience
Enjoy ultimate convenience at your fingertips with Somfy's range of automated blinds and curtains. Control your window furnishings using a remote control, tablet, smartphone or voice assistant. Everything becomes so much easier thanks to Somfy. With Somfy's range of automation solutions for window furnishings, you can enjoy the experience of controlling your blinds or curtains from anywhere in the world or simply set and forget.
There's always a solution with Somfy
Somfy's range of automation provides a solution for every possible scenario. Whether its heavy-duty hardwired motors capable of handling the largest of window coverings or the convenience of Li-Ion powered motors that require charging only a couple of times a year, Somfy's reliability is market leading. Home automation systems such as Cbus and Wi-Fi connectivity marks a new frontier in the home and Somfy products will work seamlessly with whatever system you have as well taking orders from Alexa and Google Home.
Motorise your world
There's nothing quite like the convenience of having control of your window furnishings at your fingertips. Let CurtainWorld and Somfy motorise your world!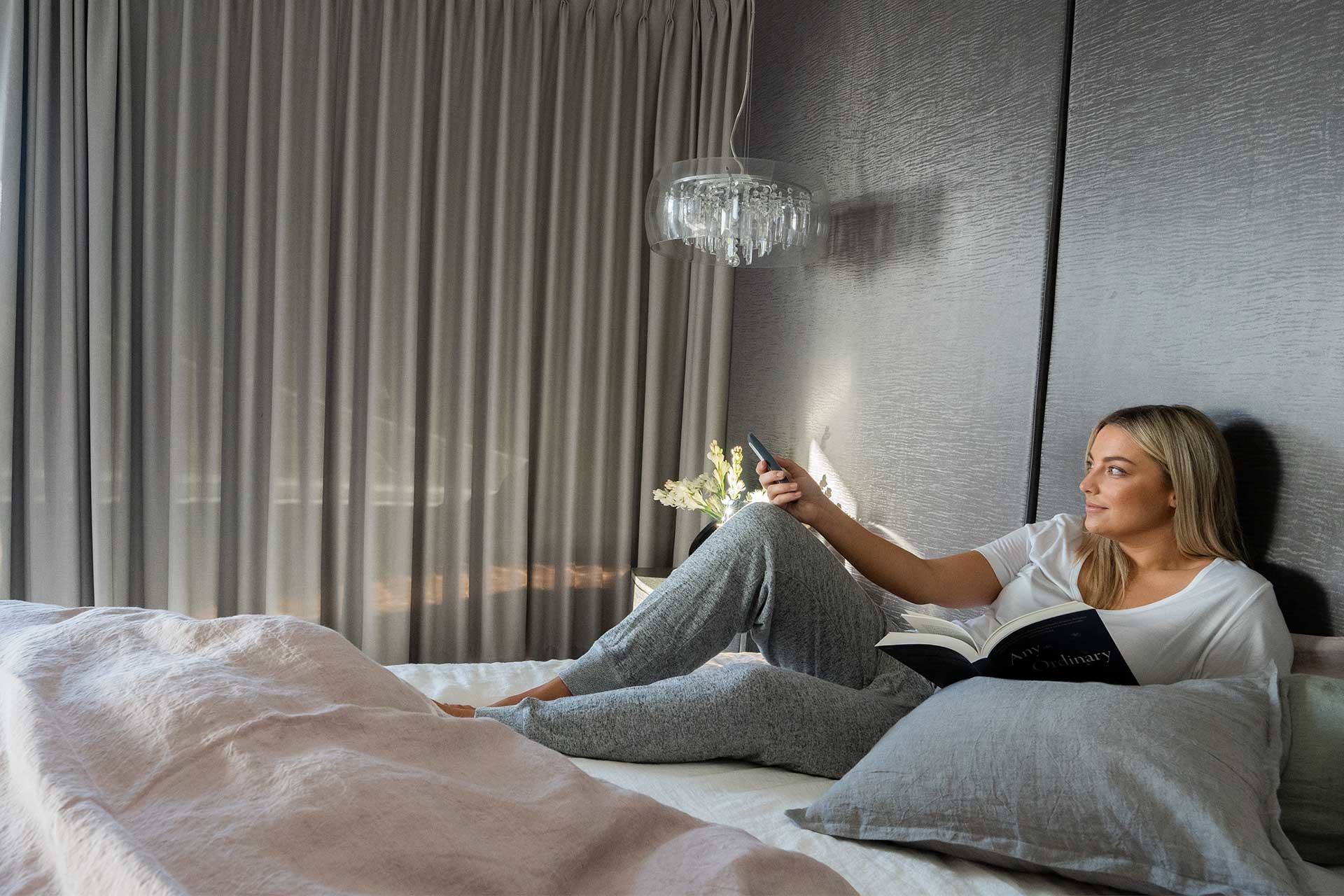 Have Questions?
Our expert consultants will bring our entire range to your home and assist with your technical and decorating needs. Our advice is based on years of experience and all products are custom made to your unique specifications.
Or you can call us on 08 9249 4800
Somfy offers world leading performance with the range of Sonesse ultra quiet motors. Part of the Somfy family of Blind motors the Sonesse motor uses patented technology to dampen noise and vibration to deliver a new standard in acoustic control. The Sonesse range is available in both wired technology and RTS radio technology motors.

Offering the benefits of remote-control operation without the need for electrical connection, Somfy's battery powered motors are the ideal solution for hard to reach blinds, when electrical connection is difficult or simply as your introduction to motorisation.

Allows control of one motor or a group of motors per channel. Unique design available in a stylish range of colours including pure, silver, gold and rose gold.

Somfy's Glydea curtain motor system is quiet, discreet, flexible and robust to deliver the highest quality in automated curtains for any location. Designed with an adaptable operating system to suit the environment, you can choose to control your curtains via dry-contact, radio RTS technology or RS485 modules. Plus, the 'Touch Motion' feature will open or close the curtain simply by pulling on the fabric.

Control your blinds, curtains, screens, roller shutters and RTS enabled lighting right from your smartphone, even when you're away from home. Allows control of up to 30 products or 30 groups of products, with the ability to set products on a timer and create up to 4 scenarios!