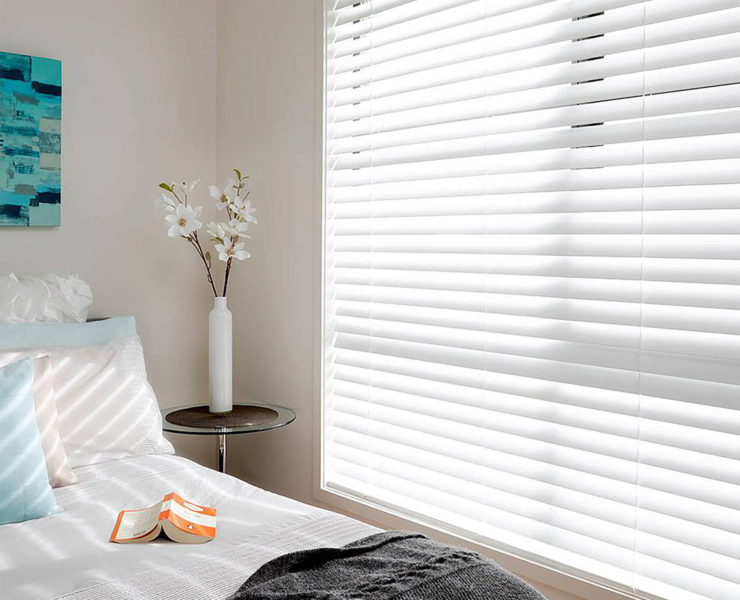 Contemporary blinds can be made of a wide variety of materials, and one of the most functional modern resources for blind manufacture is timber. Our White Timber Venetian blinds are professionally finished, achieving a superb look and performance. Not only are these wooden blinds highly useful when it comes to maintaining privacy, but they are also versatile enough to enable ventilation and flexible light control. From white timber-look venetian blinds, through to a range of superb wooden blinds in a variety of colours, our team of experts can help you find the perfect look for your home.
Quality white timber venetians at incredible prices
Enhance any room with premium, factory direct venetian blinds
Springwood venetians

CurtainWorld has a very popular range of timber-like Venetian blinds. They are suitable for all rooms including wet areas such as bathrooms and kitchens.

Basswood

The classic all timber venetian blind, with slats made from 100% sustainable Basswood, in white or a variety of painted and stained colours.

Cordless option

A new venetian blind technology that provides allows a cordless option for improved functionality and convenience.
Stunning Timber Look & Wooden Blinds
We understand the vital importance of aesthetics to homeowners, and our versatile white timber venetian blinds make a stylish addition to almost any room, whether it's a home office, a bedroom or a living room. With a wide range of colours to choose from, you shouldn't struggle to find a style that complements your existing décor. Better still, you can rest assured that all our blinds are capable of withstanding the high temperatures associated with Australia's summer climate.
Visit our Perth Showroom
If you want to see our range of timber venetian blinds in person, why not visit our Perth showroom? Our experienced and friendly team of consultants will be happy to answer any questions you may have and help you find the perfect window treatments to suit your home.
Book now
If you'd like further information on our full range of blinds, you can get in touch with our friendly and professional team. You can also visit our showroom in Perth or arrange for one of our consultants to visit your home.
Have questions?
Our expert consultants will bring our entire range to your home and assist with your technical and decorating needs. Our advice is based on years of experience and all products are custom made to your unique specifications.
Or you can call us on 08 9249 4800
Timber venetian blinds provide a classic look to any room, and now with a number of different materials available there is an option to suit each situation. Genuine Basswood timber can be stained or painted to give you that classic look or timber-like PVC options are available to the budget conscious, or for wet areas. Timber venetians are a practical option for any window as they allow the control of light and privacy at the same time, regardless or whether it is day or night.

Like most window treatments timber venetians are easier to clean if you do a light clean regularly. Rotate the blind into the closed position and gently dust with a soft microfibre cloth or vacuum on a low setting with a soft brush attachment. To clean the other side of the slats simply rotate the slates in the opposite direction. If more than a light dusting is required to use a clean cloth and a mild detergent solution, always drying thoroughly after with a clean cloth.

Smart Privacy is a newly developed version of the PVC range of custom timber venetians. The smart Privacy blind has a number of enhancements to ensure even less light enters the room and a minimalist headbox that does not require an additional valance. Speak to your sales consultant about the features and cost savings of the smart privacy venetian blind.

Yes, our entire range of blinds and products are installed to the strict child safety guidelines. For more information visit our Resources Hub.