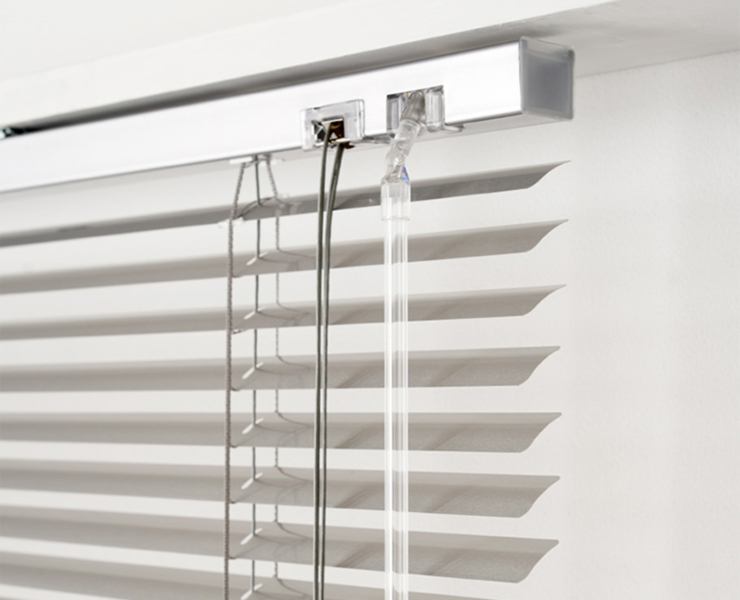 Choosing the right blinds for your windows is not as easy as you might think, especially when there are extremes of weather to contend with. In Perth, you need to be careful during the hot summers, as inadequate window dressings can result in an overheated home. If you're keen to regulate the temperature in your property, you needn't look any further than our range of aluminium venetian blinds.
Quality aluminium blinds at incredible prices
Looking after Perth's windows for over 45 years
Classic Practicality

Aluminium venetian blinds have stood the test of time not only because of their aesthetics but because of their functionality.

Light Filtering

With a simple twist of the handle you can control the amount of light filtering through.



Wet or dry

CurtainWorld's range of aluminium colours look great and can provide a practical solution in all rooms of the home.
Stylish Aluminium Blinds
At CurtainWorld, we're experts when it comes to interior design, and we appreciate that style and practicality are key. With a range of colours from black to white, you're sure to find the perfect aluminium blinds for your home. Our aluminium venetian blinds combine functionality and aesthetics, providing you with window dressings that are superbly stylish and help to keep your property cool in the summer and warm during the winter.
Reliable & Functional
We use high-quality materials, meaning you can have the peace of mind that your blinds will stand the test of time. Due to their functional design, you can enjoy complete privacy when they're closed, or allow the outside light to seep into your rooms once opened.
Get in touch with us!
At CurtainWorld, we have some of the very best aluminium venetian blinds Perth has to offer, so why not contact us to discover how we can meet your particular needs? Why not visit our Perth showroom and speak to our experienced consultants who will be happy to help you find the perfect window treatments for your space.
If you'd like further information on our sheer curtains, you can get in touch with our friendly and professional team. You can also visit our showroom in Perth or arrange for one of our consultants to visit your home.
Have questions?
Our expert consultants will bring our entire range to your home and assist with your technical and decorating needs. Our advice is based on years of experience and all products are custom made to your unique specifications.
Or you can call us on 08 9249 4800
Aluminium venetians, like most window treatments, are easier to clean if you do a light clean regularly. Rotate the blind into the closed position and gently wipe with a soft microfibre cloth or vacuum on a low setting with a soft brush attachment. Ensure you don't dent the slats by using one hand to support the slats if necessary. To clean the other side of the slats simply rotate the slates in the opposite direction. If more than a light dusting is required to use a clean cloth and a mild detergent solution, always drying thoroughly after with a clean cloth. For more information on care and maintenance visit our Resources Hub.

The 25mm louvres are 0.21mm thick and made from high quality spring-tempered aluminium alloy coil that is painted and chemically pre-treated with an oven-baked polyester finish.

Aluminium Venetian blinds can be made up to 3.6 metres wide with a maximum drop of 3.2m. Unfortunately, we do not motorise Aluminium Venetians

Aluminium Venetian blinds can really work in any room of the house. They are a great way to control the light and at the same time let you control the level of privacy you desire. Also ask your décor consultant for more information about the options available on custom made patio split blinds to give you unobstructed access through larger sliding patio doors.