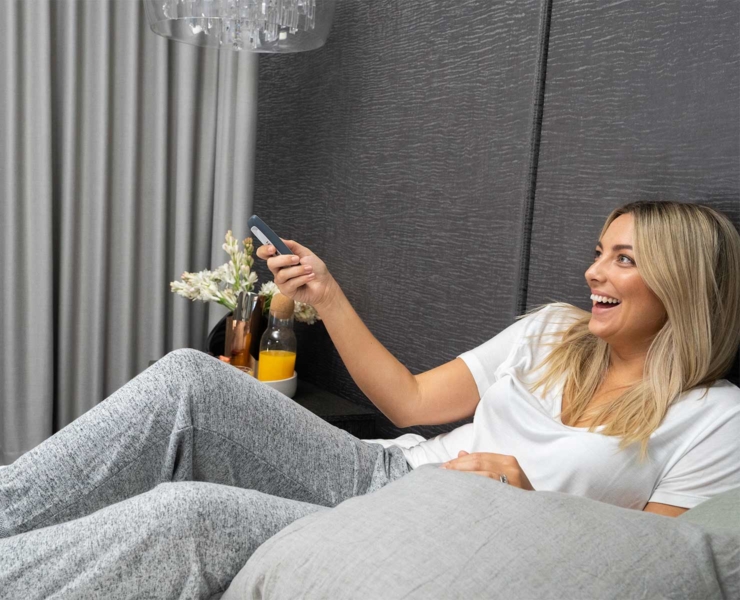 Imagine going to bed at night with blinds drawn for full privacy and waking up to rays of sunshine illuminating your living space, all preset to occur without you having to do a thing! CurtainWorld's range of motorised blinds and curtains has been designed to offer greater flexibility and convenience for you and your home.
As a world leader in automation systems, CurtainWorld has proudly partnered with Somfy and Rollease Acmeda to offer an affordable range of control solutions to meet any requirement in the automation of window furnishings in the home or office. Somfy and Rollease Acmeda's unique and stylish range of remote controls and Wi-Fi integration options provide users with the ultimate in convenience – all at the touch of a button.
Ultimate convenience and efficiency
Enjoy convenience at the touch of a button with our automated window solutions
Convenience

Energy Efficiency

Longer Lifespan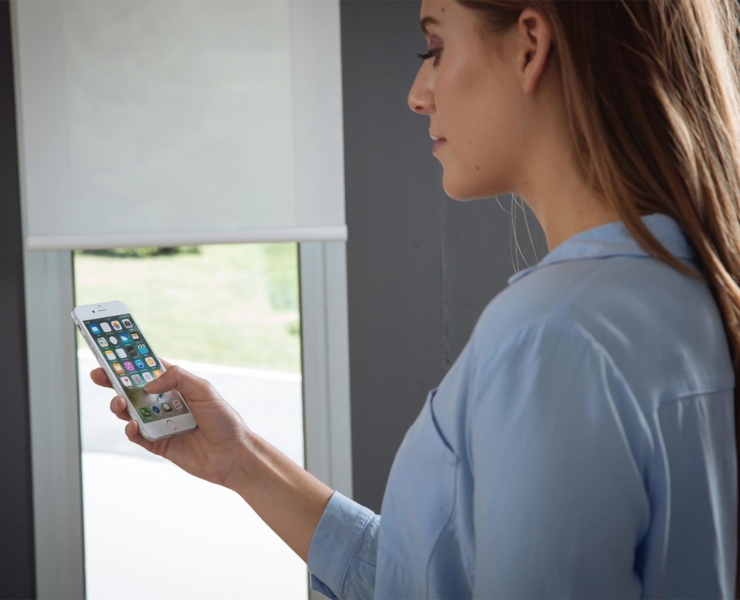 Automated Curtains & Blinds
The environment we create within our homes and offices contributes significantly to health and well-being in our daily lives. Somfy and Rollease Acmeda automation systems enhance our living environments and wellbeing by adding convenience, safety, thermal comfort, and energy efficiency.
By choosing Somfy or Rollease Acmeda automated blinds and curtains, you maximise the functionality of your product and gain much-desired flexibility that is simply not possible with a manual system.
Electric Outdoor Blinds
The added sun, wind and rain protection provided by external sunscreens and blinds allow us to extend the living areas of our homes to the great outdoors. Apart from adding convenience and environmental efficiencies, Somfya and Rollease Acmeda motor and control systems quite simply make large blinds manageable.
By choosing a Somfy or Rollease Acmeda motorised outdoor roller blind, you will maximise the functionality of your product and gain much-desired flexibility that is simply not possible with a manual system. Why wrestle with a 5-metre-wide blind when a motor can handle it with ease?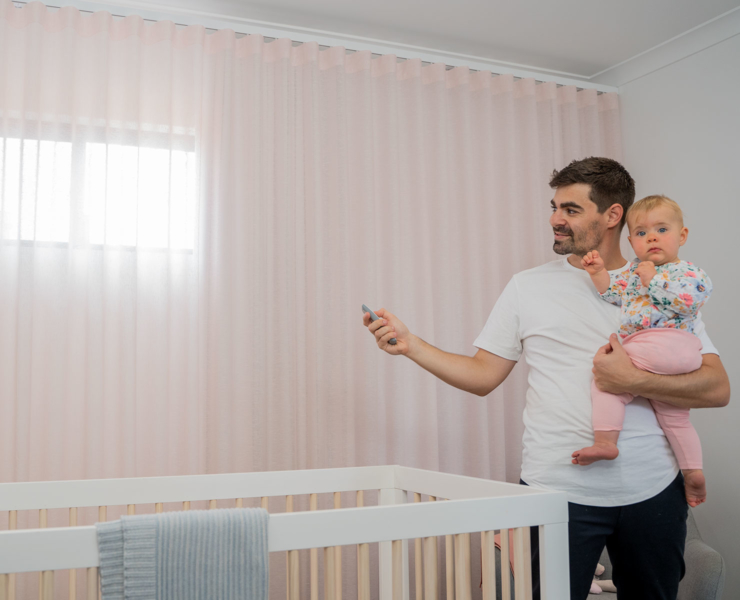 Quiet and safe
Somfy and Rollease Acmeda automated blinds and curtains reduce the risk of any cord or chain dangers because the cords and chains are completely removed, providing peace of mind for you and a safer environment for your children
Somfy and Rollease Acmeda motors are fully concealed inside the tube of the blind. With the simple press of the remote control, you will enjoy the ambiance and impress your guests with a quiet and sophisticated automated system.
FAQ
Our expert consultants will bring our entire range of blinds and curtains to your home and assist with your technical and decorating needs. Our advice is based on years of experience and all products are custom made to your unique specifications.
Or you can call us on 08 9249 4800
Yes, you can but your existing roller blinds may need some modifications such as tube size and length depending on your current installation. Our consultant will need to evaluate your current roller blinds and give you some options.

Not necessarily. In some hard to reach places, we recommend hardwiring as charging is not possible, however as Li-Ion batteries have now become so advanced the wireless motors are a good option. In some cases, the weight of your blinds may require the strength of a hardwired motor.

Unfortunately, it is not possible to retrofit a motor to existing curtain tracks. The track will need to be replaced, as the entire track has intricate mechanisms within it that contribute to the motorised function.

No, you don't. Often you will only need one remote control per room. Depending on the brand of motor you decide on multi-channel remote controls can control up to 16 blinds and/or groups of blinds.

Absolutely! If you are building and are at the electrical stage, then we are more than happy to liaise with your electrician in preparing your new home for motorisation. If you are renovating and would like us to take care of the entire process, then trust us to handle everything using our qualified electrician to hardwire your motorised products.

This is dependent on how often your blinds go up and down. Regular daily use will see you charging your motors approximately 2-3 times a year (every 4-6 months).