Whether you want to extend your living space or revamp your commercial outdoor setting, our outdoor blinds will give you all the shade you need for protection against the harsh WA sun. With Perth's biggest range of Ziptrak blinds, we're sure to have the perfect product to suit your needs. Not only will you get more use out of your alfresco spaces, but our brilliant blinds also deliver a sophisticated finish.
Sun Protection

The Western Australian sun is unforgiving. Get protection from the harsh heat and UV with a wide range of effective outdoor blinds.

Canvas and Mesh

Our fab fabrics will keep you safe from the summer sun. Whether you choose canvas or mesh, our blinds will protect you from WA's hot weather.
All Seasons


All Seasons

Keep using your outdoor dining space through the winter with our PVC outdoor blinds. When it gets chilly, keep entertaining with this stylish solution.
Ziptrak Blinds Perth
This sealed Ziptrak blind system shields you, your space and your furniture from wind, rain, dust, glare and WA's unforgiving sun. If easy is your priority, then the Ziptrak may be the perfect solution for you. The unique spring-balance means no cranks, chains, zips or cords are required. Hand operated, the simple Ziptrak® system features a streamlined center-lock-release. To make the most of the incredible climate and stay safe in all weather conditions, Ziptrak blinds lock at their lowest position and hold secure in high wind. To open, lift the handle to activate release latches on both sides of the bottom bar. Choose from our range of Ziptrak blinds made of screen mesh or PVC materials.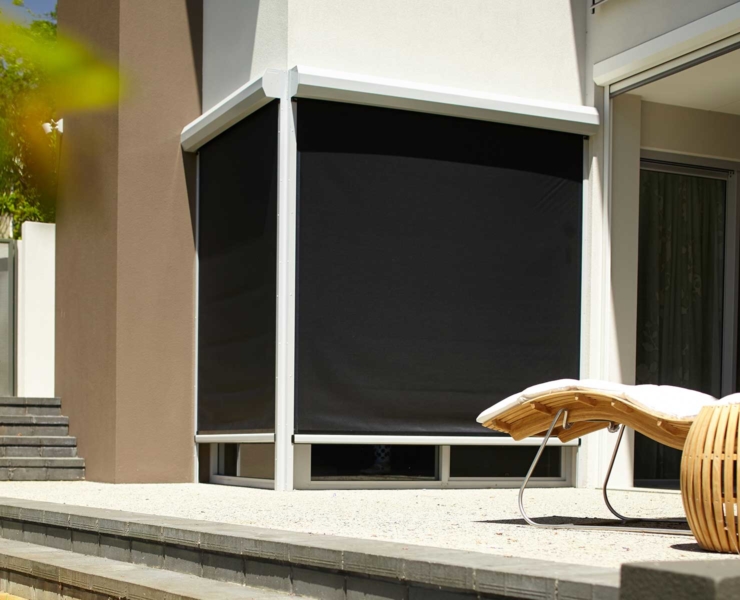 Screen Mesh Blinds
On top of reducing the harsh glare of WA's sun, this mesh is purpose-made to withstand all weather conditions, blocking up to 99% of UV rays and 96% of wind and rain. Sleek-looking and easy-to-maintain, this material lasts longer and comes in a variety of colours and transparencies. Because it allows airflow, your space will feel well ventilated and private.
PVC Blinds
This sophisticated purpose-made, highly engineered plastic material completely blocks out wind, dust, rain and debris. Our clear PVC blinds are ideal for those who want to maintain uninterrupted views or if you want more privacy then our tinted blinds are the perfect alternative. Because it blocks up to 93% of UV rays, this smart material will maintain the temperature within your space.
Get in touch
For the biggest range of Ziptrak blinds throughout WA, look no further than CurtainWorld. View our range of blinds online or if you want to see them in person, visit our showroom in Perth. Our friendly team of consultants will be happy to answer any questions you may have, and you can rest assured that we'll do our best to find the right blinds to suit you. For more details, contact us today.
Have questions?
Our expert consultants will bring our entire range to your home and assist with your technical and decorating needs. Our advice is based on years of experience and all products are custom made to your unique specifications.
Or you can call us on 08 9249 4800
No, there are no visible zips on the outdoor products we sell. These are often found on Bistro or Café blinds, which we do not sell.

Absolutely! Our bestselling outdoor products can all be motorised and can also link into any Wi-Fi smart system you may have working inside your home. Ask your consultant for more information during your free in-home consultation.

Your outdoor blinds will last longer with regular maintenance. Regular dusting and cleaning with mild detergent is recommended. If you do need to spot clean, then remove any marks as soon as possible with a clean cloth and mild detergent in warm water. Avoid using harsh scouring pads and chemicals on the fabric and dab gently at the dirt rather than rubbing. This will avoid distorting any pattern or colour on the blind. Also allow the fabric to dry itself rather than applying too much heat from a hairdryer or iron as this could shrink the affected area. If you have outdoor products with side tracks that tension the fabric, then it is recommended that you spray silicon spray in the tracking every 3-6 months to ensure a continued smooth operation. Never use oil based sprays such as WD-40 or CRC.

Yes, we have a fantastic team of fitters and installers who will come to your home and take the stress out of installing.