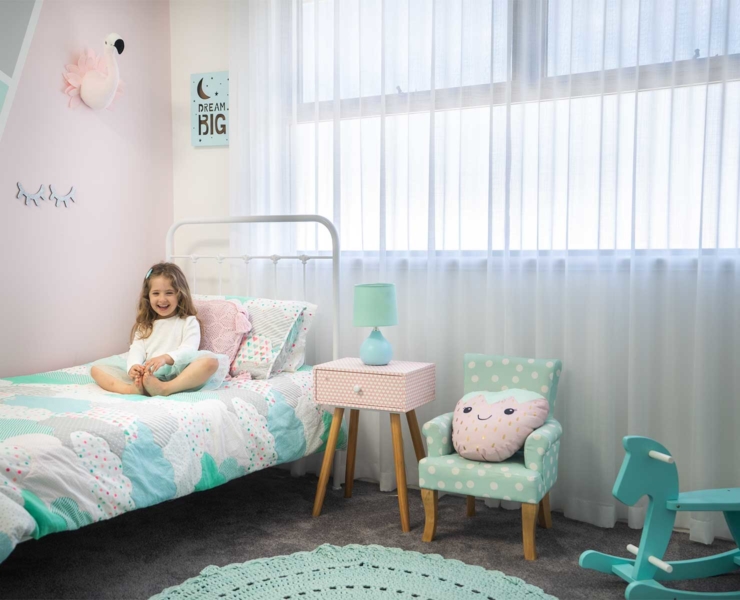 Here at CurtainWorld, we pride ourselves on supplying Perth's biggest range of sheer curtains. These window dressings give a breezy, flowing look and feel to rooms. For understated elegance and style, sheer curtains are impossible to beat.
Quality sheer curtains at affordable prices
Enhance any room with premium, factory direct sheer curtains
Lightweight

Sheer curtains have a beautiful aesthetic and flow thanks to their lightweight material.

Classic

Sheer curtains immediately enhance the look and feel of a room due to their timeless appearance.

Light control

Light can be beautifully diffused through sheer curtains creating a beautiful ambiance to any room.
Perth's biggest range
We offer a variety of designs, meaning you won't struggle to find versions that suit your home interior. Whether you want to opt for plain styles or patterned fabrics, we should have the ideal products for you. Simply peruse our collection to see for yourself.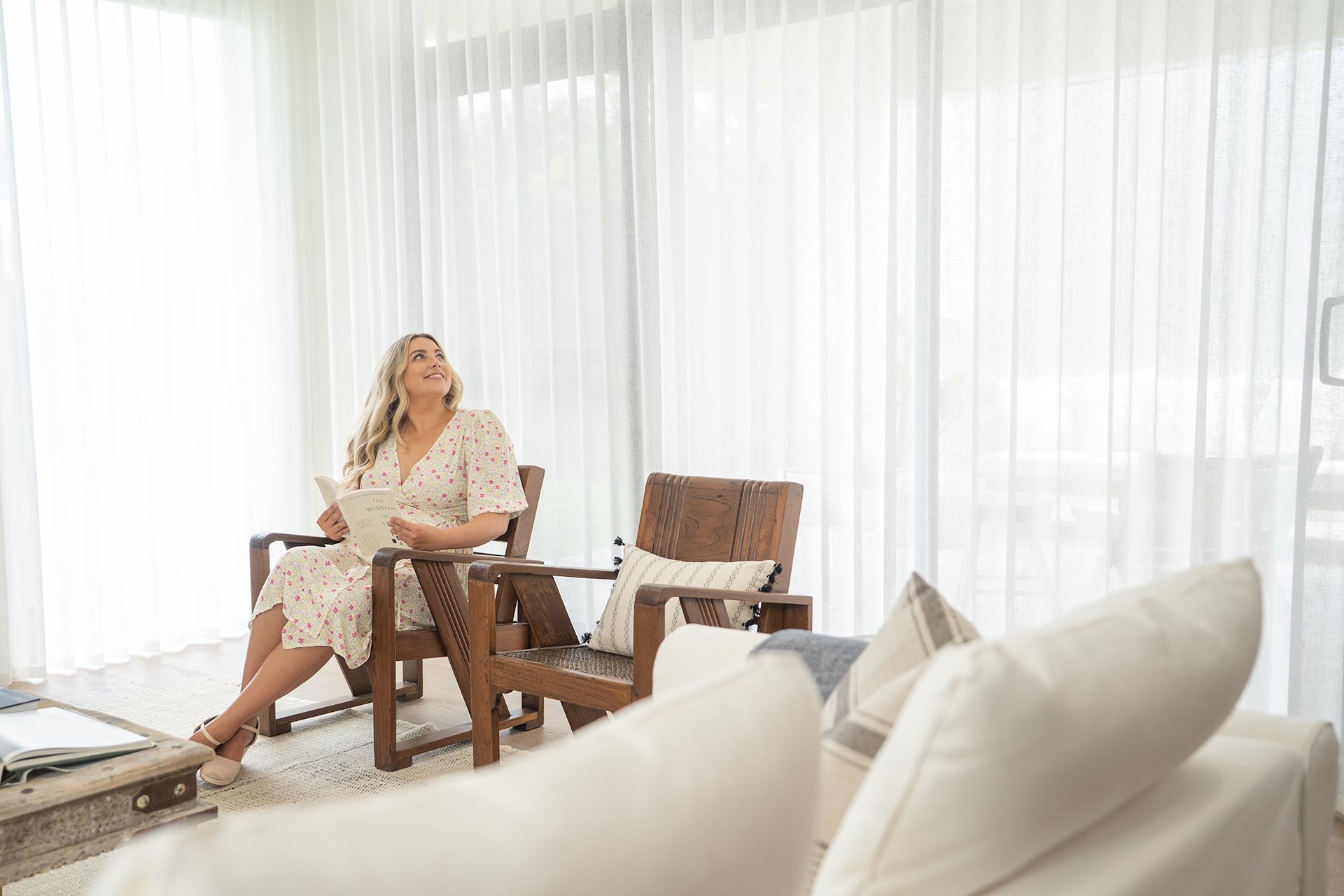 Natural light
With sheer curtains in your rooms, you can bring the outside in, breaking down visual barriers between the indoors and outdoors. Sheer curtains also help you to make the most of all the natural light on offer, as well as allowing air to circulate freely around your rooms. The sophisticated interior design features also enable you to keep your views of the world outside while helping you to maintain your privacy.
Book now
Partner up with blockout curtains
For greater versatility, you can team sheer curtains up with blockout curtains. We offer a range of complimentary designs, meaning you won't struggle to find pairs that match perfectly. Opting for a combination of sheers and blockout curtains means you can have total control over the level of brightness and privacy in your rooms. You'll be loving your new look sheers hanging in front of your blockout curtains, as well as the added practicality of having complete control of privacy and light.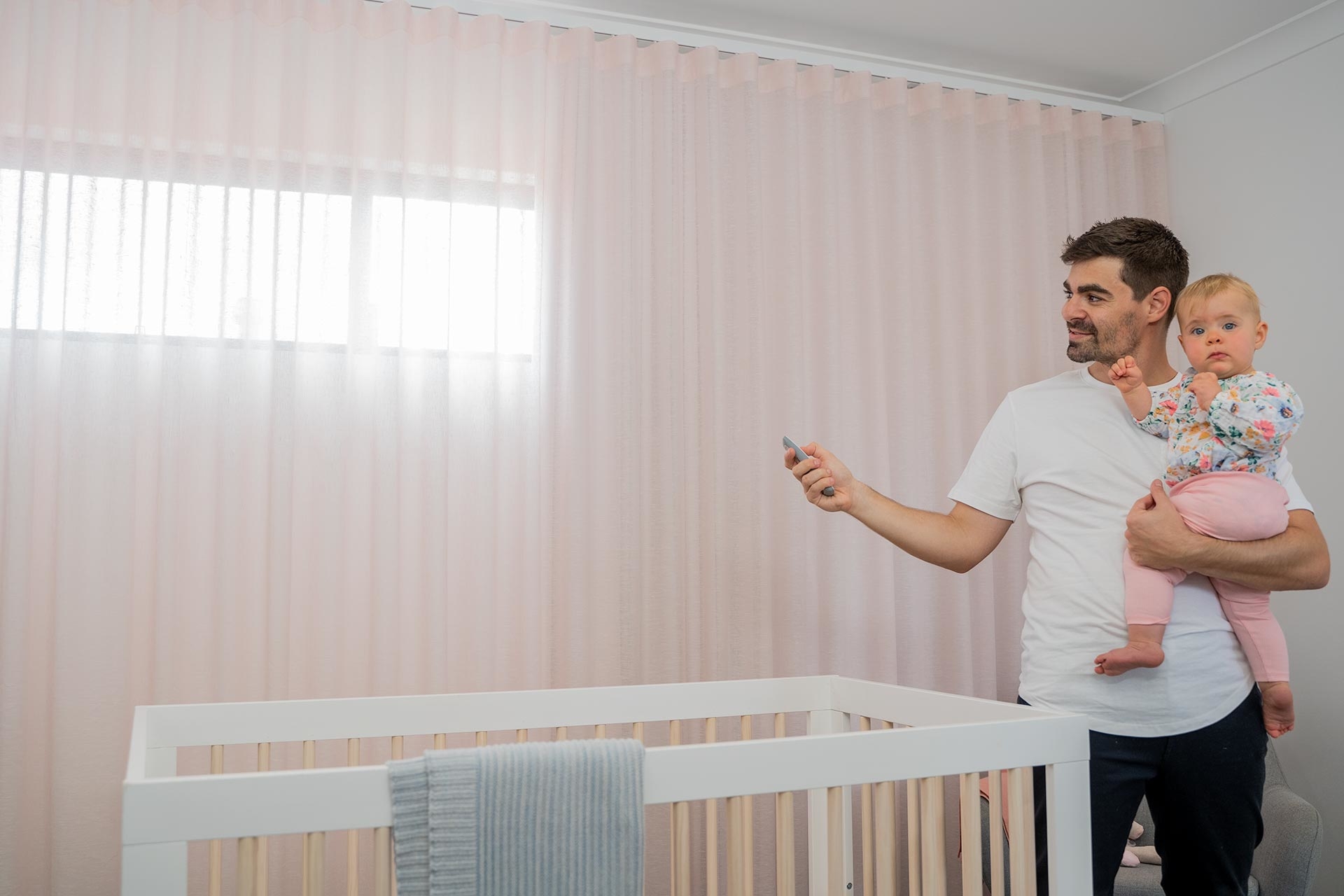 If you'd like further information on our sheer curtains, you can get in touch with our friendly and professional team. You can also visit our showroom in Perth or arrange for one of our consultants to visit your home.
Have questions?
Our expert consultants will bring our entire range to your home and assist with your technical and decorating needs. Our advice is based on years of experience and all products are custom made to your unique specifications.
Or you can call us on 08 9249 4800
We offer a large range of different pleating styles to create a look to best suit to your home. From wave pleats to pinch pleats and everything in between, we custom make your curtains right here in our Malaga factory so we're sure to have the perfect solution.

We source only the best quality sheer fabrics out of Europe. Our fabrics are thoroughly tested before we put them into our range thus ensuring the quality is up to CurtainWorld standards.

We offer an extensive range of tracking and colours to suit any decorating style you are striving for. All our tracks are custom made to perfectly suit your window size. We also carry a comprehensive range of motorised curtain tracking with the latest connectivity options on the market. Ask a sales consultant to show the complete range when receiving your free in-home measure and quote.

Sheer curtains can be combined with many other products to compliment your window. A popular look is it to combine a sheer on a double curtain track with a plain matching blockout curtain behind, leaving the sheer in front to soften the window and offer daytime privacy. With this in mind, a sheer curtain can also be used over the top of nearly any blind product to add that touch of class to any room. They work especially well when combined with a blockout roller blind or Classique Honeycomb blind mounted in the window recess.

All our curtains have a care instruction label sewn into the heading. This is usually found on the last pleat at one end of the curtain. This will tell you specifically what type of cleaning is suggested for the type of fabric you have. Your curtains should not require a lot of maintenance however regular light cleaning will not harm them. Always support the fabric from behind and either use a clean duster or light vacuum brush (avoid the harsh brush attachment) on a low setting. If you do need to spot clean, then remove any marks as soon as possible with a clean cloth and mild detergent in warm water. Never scrub the curtain as it may distort the surface or pattern, but rather dab it. When dry you may need to repeat with clean water to remove any soapy residue. Avoid dunking your sheers in water. The bottom of your sheers is often lined with a metal weight to ensure they hang evenly. If this weight gets wet, it could potentially rust and leave a stain on your sheers. For more information visit our Resource Hub.