If you're looking to add warmth and style to your windows, then roman blinds could be your answer. Adding a touch of class to any room, roman blinds rise gently into a soft folded pelmet that frames the window beautifully. When raised, they offer a clear view of the outside and when lowered, you can benefit from complete privacy. Highly flexible, they can be adjusted to a variety of levels depending on the amount of light and privacy you require.
Quality Roman Blinds at incredible prices
Looking after Perth's windows for over 45 years
Modern Classic

CurtainWorld's trendy roman blind materials offer a modern twist on a seasoned style of window furnishing.

Functional Materials

Our roman blinds can be made in blockout, light filtering or sunscreen fabrics that give you infinite colour, lighting and privacy options.

Light Control

Our selection of roman blinds is available in various light filtering materials, from blockout to sunscreen.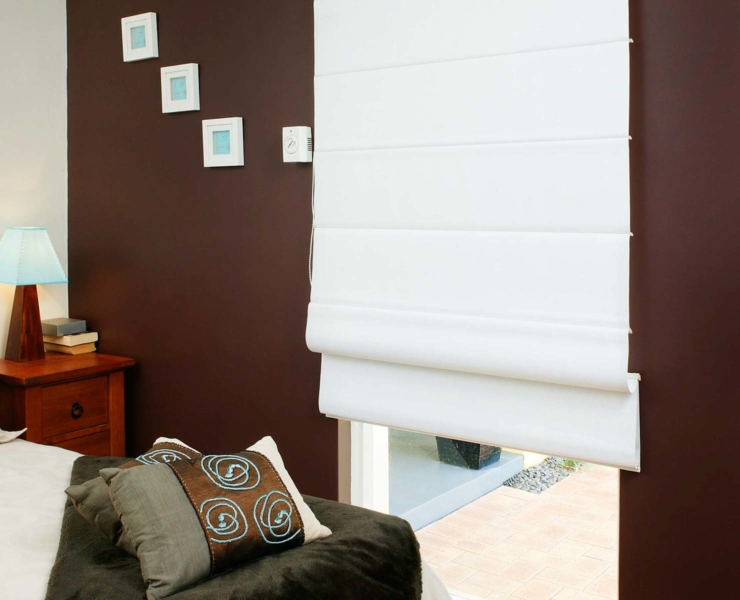 Light filtering capabilities
Offering a wide range of fabrics and colours to choose from, you shouldn't struggle to find the perfect custom roman blinds to suit your home decor. Whether you need blockout, sunscreen or light filtering fabric, we make sure we fully cater to all of your needs. Perfect for the Perth & Western Australian climate, roman blinds help to reduce glare and prevent harmful UV rays from entering your home.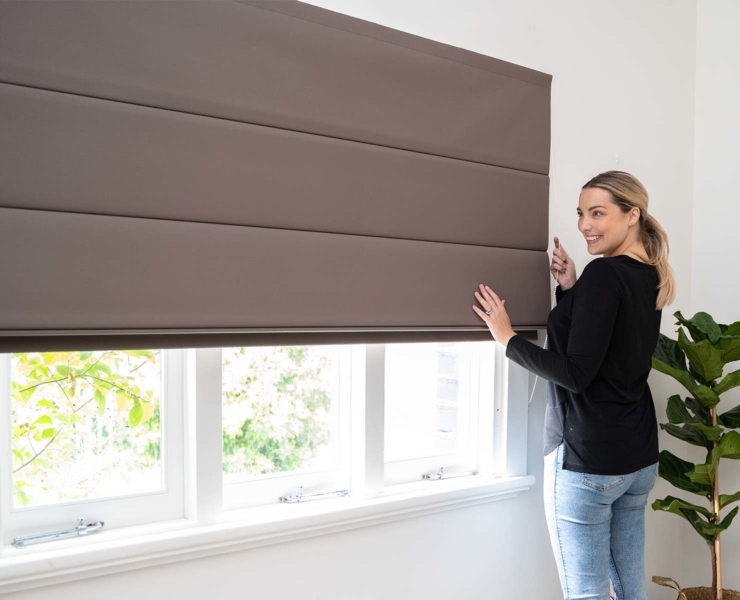 Versatile
Choose either a classic timber batten or fabric style or a more modern, plain look where the battens are hidden at the rear of the blind. Our roman blinds are also available with two different operating mechanisms, including a traditional standard cord lock, or the optional deluxe chain drive. The best thing about roman blinds is that they are extremely versatile and can make an elegant addition to any space, whether it's a bathroom, bedroom or dining area.
Get in touch
Here at CurtainWorld, we pride ourselves on offering our customers the best value roman blinds in Perth. To find out more information about our blinds in Perth, please don't hesitate to get in touch and speak to our décor consultants.
If you'd like further information on our roman blinds, you can get in touch with our friendly and professional team. You can also visit our showroom in Perth or arrange for one of our consultants to visit your home.
Have questions?
Our expert consultants will bring our entire range to your home and assist with your technical and decorating needs. Our advice is based on years of experience and all products are custom made to your unique specifications.
Or you can call us on 08 9249 4800
We offer several different styles of Roman blinds to suit any type of décor. You can choose from a traditional timber batten roman or more a contemporary plain roman blind that can be stitched or supported with aluminum battens at the rear. Our roman blinds are also available with two different control mechanisms, including a traditional standard lock, the or optional deluxe chain drive.

If you do need to spot clean, then remove any marks as soon as possible with a clean cloth and mild detergent in warm water. Avoid using harsh scouring pads and chemicals on the fabric and dab gently at the dirt rather than rubbing. This will avoid distorting any pattern or colour on the blind. Also, allow the fabric to dry itself rather than applying too much heat from a hairdryer or iron as this could shrink the affected area. Regular care is recommended as battens on romans can collect dust. Always support the fabric from behind and either use a clean duster or light vacuum brush (avoid the harsh brush attachment) on a low setting.

Yes, you can but we highly recommend against it. Due to the way Roman Blinds are manufactured, over time there is a possibility that the blind may drop or stretch. If the blind is fitted on the face this would probably never be noticed unlike if it is sitting on a windowsill.

Roman Blinds can be made in the majority of our Blockout, Light Filtering and Sunscreen fabrics that we use to make roller blinds. If you are wanting to match a blind to a curtain, then we can also make several of our blockout coated curtain fabrics into Roman blinds. If this of interest to you then ask your sales consultant for more information about which curtain fabrics are suitable.