If you're looking for window dressings that are both practical and stylish, vertical blinds may be just what you require. Here at CurtainWorld, we understand customers sometimes want a simple solution, which is where our selection of vertical blinds come into their own. As attractive as they are functional, they look effortlessly classy while also ticking all the boxes when it comes to practicality. Vertical blinds are also highly versatile and will make a stylish addition to almost any room in the home.
Unbeatable quality vertical blinds at affordable prices
Enhance any room with classy vertical blinds
Designed For Doorways

Vertical blinds are the perfect option for sliding doors and their moisture resistant materials make them ideal for wet areas.

Minimalistic

Simple in nature, CurtainWorld's vertical blinds have a number of customisable options to make them even more practical in individual circumstances.

Customisable

Available in a choice of track colours, openings and three bottom-weight options.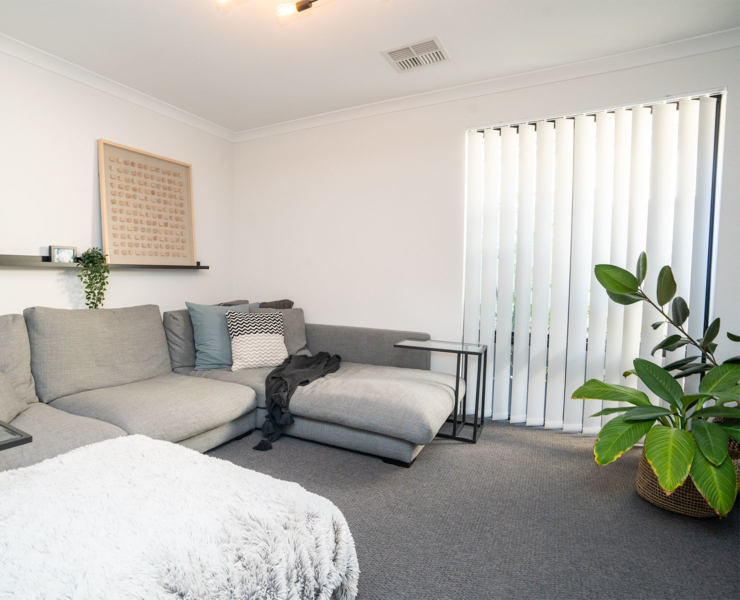 Low maintenance
If you have a busy lifestyle, cleaning your blinds on a regular basis is unlikely to be at the top of your list of priorities. Thanks to the anti-static qualities of our vertical range, mold, and dust will not accumulate, making them a great low maintenance option.
Choosing the right vertical blinds for your home
To find out more, you can browse our selection of vertical blinds online. Alternatively, you can pay us a visit at our showroom in Perth or book an in-house consultation and check out some of our samples. If you're still unsure of what window treatments will best suit your needs, our experienced and friendly consultants will be more than happy to offer their expert advice and help you come to a decision. Get in touch to find out more and view our range of the best vertical blinds Perth has to offer.
If you'd like further information on our range of blinds in Perth, you can get in touch with our friendly and professional team. You can also visit our showroom in Perth or arrange for one of our consultants to visit your home.
Have questions?
Our expert consultants will bring our entire range to your home and assist with your technical and decorating needs. Our advice is based on years of experience and all products are custom made to your unique specifications.
Or you can call us on 08 9249 4800
Vertical blinds, like most window treatments are easier to clean if you do a light clean regularly. Each slate will need individual attention on both sides, supported from behind with your hand. Gently wipe with a soft microfibre cloth or vacuum on a low setting with a soft brush attachment. Tougher dirt can be removed with a mild detergent solution. Avoid tough rubbing and scouring sponges, and remember to dry affected areas thoroughly.

We sell vertical blind louvres or slats in two standard sizes. 89mm and 127mm wide. These can be made to any window drop you require.

Yes, you can. Vertical blinds are one of the few window treatments that can be adapted to suit angled windows. Regardless of whether you window pitches at the ceiling or angles at the bottom we can custom make the blind to suit the window.

There are three different options available when considering the bottom weights on a vertical blind. The traditional "chained" weights, where each slat is connected at the weight by a small gauge plastic chain, or the more modern options of "chainless" weights or completely "sewn-in" weights. Your décor consultant can show you photos of the options if you require more information.

Of course, our entire range of blinds and products for that matter are installed to the strict child safety guidelines as laid down by the Australian Competition and Consumer Commission. For more information visit our Resources Hub page.