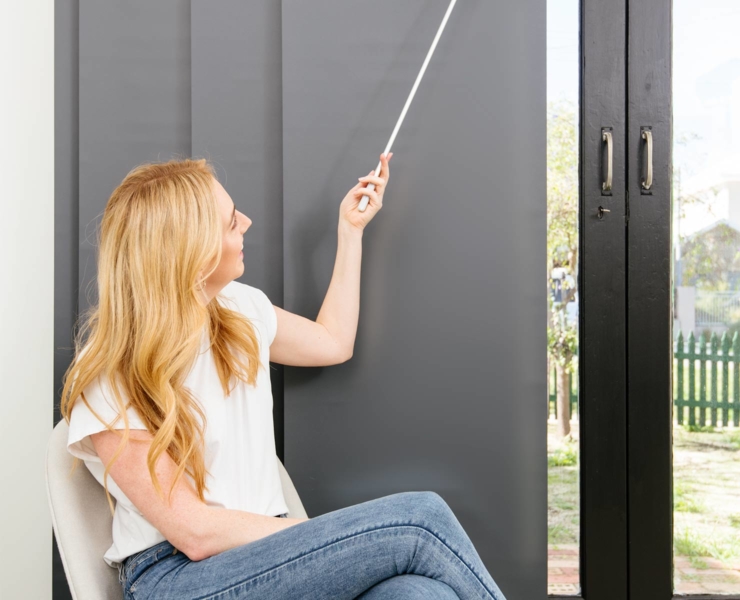 If your windows are due a sophisticated makeover then Panel Glide blinds could be the perfect solution for you. They are both elegant and practical and bring a streamlined style to your windows that will surely become a talking point. They are lightweight, easy to operate and give you ultimate control over light and heat levels in your home.
Quality Panel Glide Blinds at incredible prices
Creating amazing curtains and blinds for the people of Perth for over 45 years
Designed For Doorways

Panel glide blinds are the perfect option for sliding doors as they can be fully retracted to give you complete access to the outdoors.

Streamlined

CurtainWorld's glide blinds are beautiful in their simplicity. They are neatly stackable and have a tasteful fabric sheen.


Versatile

Available for large shading areas, patio doors or large windows. Panel Glides can also be used as a room divider.
Full light control
The user-friendly, smooth glide operating system makes controlling the light and heat of your room as easy as ever. When fully open, the panel blinds neatly stack behind each other which allows maximum light into your space. They can be stacked to the left, right or middle and are operated by simply pulling the wand. They are a great solution for larger windows or even sliding doors.
Available in many styles and fabrics
Panel glide blockout blinds give you the choice of complete privacy or allowing in light. They also have insulating fabric which helps control the temperature of your room and also prevents UV rays. They are also available in sunscreen and light-filtering options which diffuses the natural light and helps cut out the glare. There are heaps of colours on offer so you'll find something that perfectly matches your decor.
If you'd like further information on our panel glide blinds, you can get in touch with our friendly and professional team. You can also visit our showroom in Perth or arrange for one of our consultants to visit your home.
Have questions?
Our expert consultants will bring our entire range to your home and assist with your technical and decorating needs. Our advice is based on years of experience and all products are custom made to your unique specifications.
Or you can call us on 08 9249 4800
Panel glide blinds, like most window treatments, are easy to clean as long as you do it semi-regularly. Each panel will need individual attention on both sides, supported from behind with your hand. Gently wipe with a soft microfibre cloth or vacuum on a low setting with a soft brush attachment. If you have tougher stains you can remove them with a mild detergent. Try to avoid tough rubbing and scouring sponges, and always dry the affected areas.

Our Panel glide blinds are available in full blockout, for 100% light and heat control, sunscreen, which will help keep out the light and heat without blacking out the whole room and also light filtering which will eliminate harsh UV rays but still keep your room light and airy.

Of course, our entire range of blinds and products for that matter are installed to the strict child safety guidelines as laid down by the Australian Competition and Consumer Commission. For more information visit our Resources Hub page.