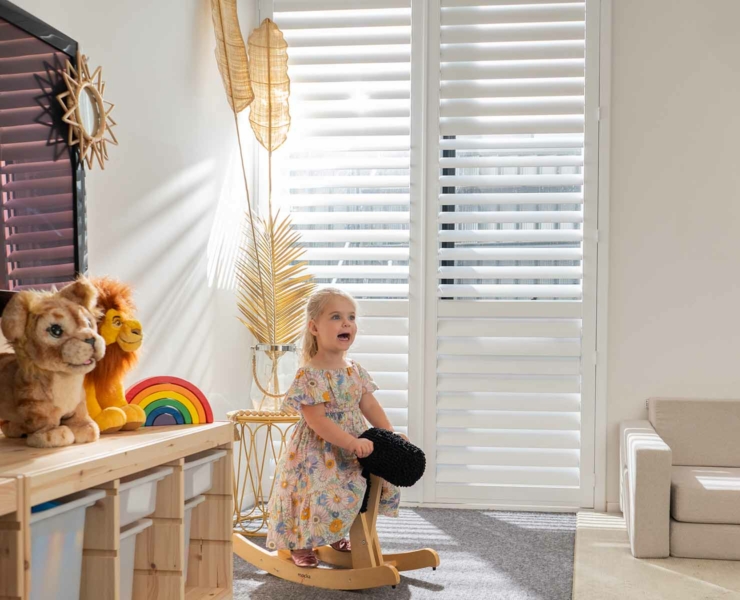 As one of the leading providers of high-quality, modern window shutters in Perth, CurtainWorld is the go-to provider for all your window dressing needs. Expertly manufactured to include a host of unique features, our vast array of interior window shutter designs boast long-lasting and beautiful finishes.
Our shutters have construction options that include MDF, hand selected quarter-sawn timber, reinforced engineered stiles, climate-controlled wood conditioning to suit the hot Australian conditions, mortise-and-tenon joinery and a multi-step hand-finishing system. Some of these processes are enduring traditions of furniture craftsmanship, while others are innovations designed to improve the long-term performance and appearance of your window shutters.
For an unbeatable look our shutters are an absolute must
Enhance your space with premium, sleek shutters
Durable

Our shutters are made from patented coating technology that allows for years of durability.

Efficient

Apart from adding to the aesthetic of your home shutters are fantastic at improving energy efficiency and reducing pollution.

Maintenance

Cleaning window shutters is as easy as wiping with a damp cloth every couple of months.


Proudly partnered with
Norman Shutters
CurtainWorld is proud to partner with one of the world's largest window shutter manufacturers – Norman Shutters. From frame to functionality, timber to finish – each Norman Shutter is made to suit your unique sense of style. Our relationship with Norman Shutters gives our customers confidence in knowing they're getting the very best possible product at a fair price.
Long lasting • Timeless • Versatile
Norman Shutters
Select from our large range of colours and styles, suitable for all areas of the home. Whether you'd like hinged, bi-fold or sliding track options, CurtainWorld has you covered. As one of Perth's leading suppliers of blinds and shutters, our knowledgeable team of consultants and professional installers are available to help guide you to your perfect solution. Book your free in-home consultation today or visit us in our Malaga showroom.
Durable • Economical • Sustainable
Norman Sustainability and Safety
As a large manufacturer of wood products, Norman Shutters respects and supports responsible forest management and are committed to producing quality window covering products that are backed by globally recognised certifications, including the FSC certificate for responsible forest management. Norman also recognises the importance of making products that are safe for your family and the environment.
No harmful substances are added during the manufacturing processes. For example, our Australian made Medium Density Fibreboard (MDF) used in our Woodlore shutter program has an extremely low formaldehyde E0 rating and is compliant with the Californian Air Resources Board P2 standard, one of the strictest in the world. As a final check to give global customers peace of mind our shutters have all been tested and approved under the European REACH standards.
Norman – The Range
Our most competitive option and also our most popular. Woodlore shutters come in a range of 9 fashionable colours and are constructed from an Australian Made MDF core and a patented Polypropylene coating for outstanding durability.
Woodbury shutters can add a touch of elegance to your bathroom or kitchen coming in 26 different colours and offering water-resistance.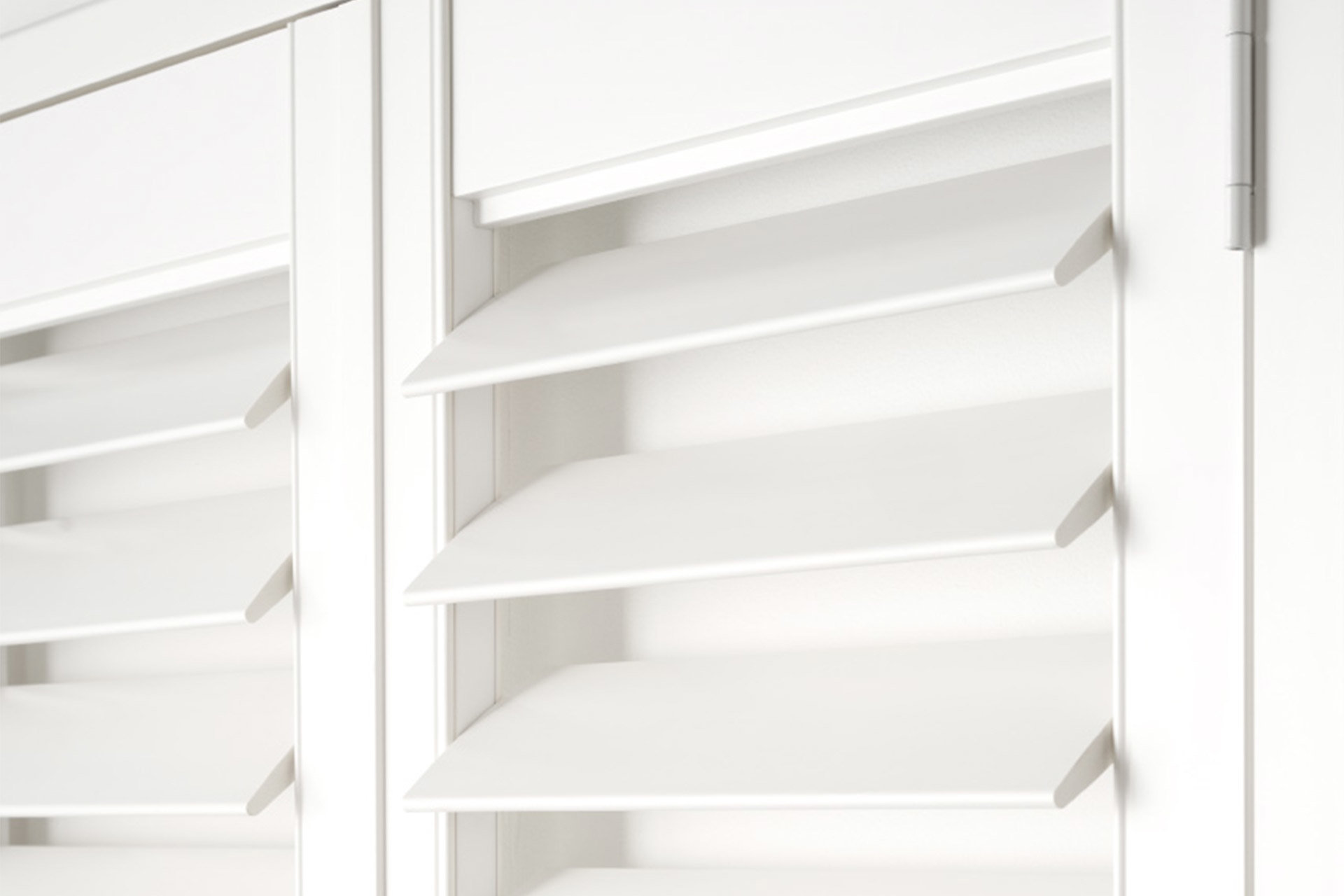 An upgrade packaged can transform this ABS coated product into a completely waterproof option if required. Finally, what range would be complete without natural hardwood sustainable timbers both painted and stained in over 50 colours. Our Brightwood and Normandy ranges will add class to any interior old or new.
Our expert consultants will bring our entire range to your home and assist with your technical and decorating needs. Our advice is based on years of experience and all products are custom made to your unique specifications.
Have Questions?
Our expert consultants will bring our entire range to your home and assist with your technical and decorating needs. Our advice is based on years of experience and all products are custom made to your unique specifications.
Or you can call us on 08 9249 4800
We have a wide variety of internal timber and PVC shutters on offer depending on your needs and budget. Our range includes plantation hard wood timbers, man-made engineered timber, ABS coated timbers for wet areas and a PVC range for the budget conscious. Ask your sales consultant for more information and specifications during your free in-home measure and quote.

Absolutely. Shutters are one of the only products that will truly cover and blockout the light on those unique windows that only architects could create. As your consultant to show you some photos of shaped windows we have installed to give you an idea of what is possible.

We have several different options available to you when considering shutters for your wet areas. Some areas get wetter than others and as such we would tailor a specific material to your needs. If required we can install completely waterproof shutters into your shower recess. Obviously your consultant will be able to show you all options and give you the best solution.

Shutters are the one product that we would highly recommend are measured and installed by our professional team. The reason for this is that they need to be millimetre perfect to ensure the best result. If you are particularly handy or live in a regional area then yes speak to our team and we will do our best to assist you in doing your own installation, however, be aware that certain terms and conditions will apply.

Like most window treatments shutters are easier to clean if you do a light clean regularly. Rotate the louvres into the closed position and gently dust with a soft microfibre cloth or vacuum on a low setting with a soft brush attachment. To clean the other side of the slats simply rotate the slates in the opposite direction. If more than light dusting is required use a clean cloth and a mild detergent solution, always drying thoroughly after with a clean cloth. If you feel your shutter louvres have loosened over time then feel free to give our service department a call on (08) 9521 4366 and we can assist you with some further instructions.

Yes, you can. Our Norman range of Shutters already has the largest range of colours on the market with over 50 colours available in the standard range. We can however have your shutters made to match a specific DULUX colour if you require. Obviously, a surcharge does apply for this service.

We offer a very special 5 year "No Questions Asked Policy" on our Norman range of shutters. It is as good as it sounds. Ask your sales consultant to explain our warranty policy to you in further detail when you are speaking to them about our market leading Norman Shutters.