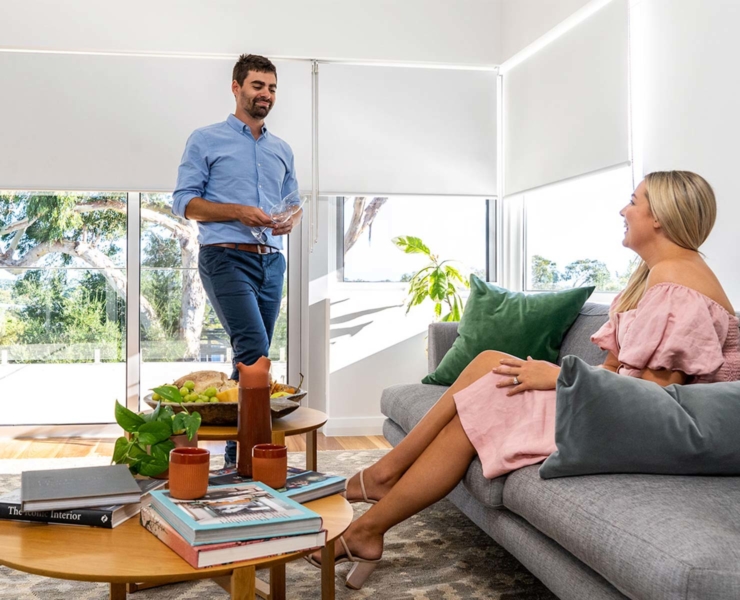 Blockout roller blinds are the last word in practicality and style. Also known as Holland blinds, these products work perfectly in a range of home interiors. Their minimalistic appearance can give any room a stylish finish.
As a leading supplier of blinds in Perth and across WA, you can rest assured you won't be stuck for options if you're on the hunt for blockout rollers.
Unbeatable quality roller blinds at incredible prices
Enhance any room with premium, factory direct roller blinds curtains
Huge Range

CurtainWorld has a large competitive range of blockout roller fabrics to fit your style no matter your budget.

Blockout Materials

Our blockout roller fabrics allow no light through the material, offering sun protection where required and room darkening to suit your needs.

Colour Options

CurtainWorld has more fabric colours than we can count. We are confident you'll find something perfect for your personal space.
Have questions?
Our expert consultants will bring our entire range to your home and assist with your technical and decorating needs. Our advice is based on years of experience and all products are custom made to your unique specifications.
Or you can call us on 08 9249 4800
Blockout roller blinds offer a significant reduction in the amount of light coming through your windows as well as providing you with maximum privacy and heat control. The roller blind itself is one of the simplest products we sell. It has dramatically improved over recent decades in size availability, variety of fabrics on offer and control systems. They can also be fully automated with complete Wifi connectivity options available. When fully up the roller blind practically disappears, leaving an unobstructed view through your windows. Manually operated blinds are also completely child friendly with all blind chains installed to Australian Standards

Roller blinds are extremely versatile and will suit most situations. There are limits on the size we can make both in width and drop, but your sales consultant can work through this with you when measuring your windows. The only time you might not use are roller blind would be when the window or door swings into the room and blind might obstruct normal operation.

Yes, you can. Special double brackets are designed to take a blockout roller as well as a sunscreen or light filtering blind giving you the best of both worlds. Privacy and light reduction during the day and then complete privacy at night when the blockout roller comes down.

Roller blinds can be either operated manually with a child friendly chain control or motorised. We carry only the very best quality motors for roller blinds from market leaders Somfy and Rollease Acmeda. Whether you want your blinds fully hard-wired or the convenience of the internal re-chargeable Li-Ion battery models we have a solution for you. We can also organise the electrical work to happen seamlessly with the installation or you are free to use your own electrician if you know someone who knows someone!

All of our curtains have a care instruction label sewn into the heading. This is usually found on the last pleat at one end of the curtain. This will tell you specifically what type of cleaning is suggested for the type of fabric you have. Your curtains should not require a lot of maintenance however regular light cleaning will not harm them. Always support the fabric from behind and either use a clean duster or light vacuum brush (avoid the harsh brush attachment) on a low setting. If you do need to spot clean, then remove any marks as soon as possible with a clean cloth and mild detergent in warm water. Never scrub the curtain as it may distort the surface or pattern, but rather dab it. When dry you may need to repeat with clean water to remove any soapy residue.