It's no secret that the right curtains or blinds for your Perth home can change the look and feel of a room dramatically, but what about when they're paired together? We often get asked the question 'do curtains and blinds work together?' The answer is, for the most part, 'yes' – when paired, the two can bring out a flexible décor and ensure adequate blocking of light and privacy control. However, there are some style guidelines to follow to get the look just right.
If you'd like to chat to one of our friendly sales staff feel to book your free measure and quote.
Do – Choose the Type of Blind First
When matching curtains and blinds together, it's best to decide on the type of blind you want for the space first. The most common styles are roller blinds and venetian blindsas they pair well with drapes and provide a basic, solid block of colour to work with. It's important you pay attention to the colour and fabric selections, and how these work together in the room.
Popular blind materials in WA tend to be timber and aluminium. For a more natural look in the space, timber blinds feature warm colours and pair well with curtains that have the same attributes. Consider a muted shade of your main colour with the timber or use the window dressings to introduce an accent colour to the rest of the room. For example, if you have cool colours in the room (blues and whites) try burnt orange curtains around the natural tones of the timber blinds to add a pop of colour. If bright colours aren't your thing, white or light crèmes for the drapes create a crisp look that works well with a variety of blind styles.
Don't – Pair Print with Print
If you're going for prints, pairing curtains and blinds together looks best when a solid colour is chosen for one and a print is chosen for the other. Combining prints on both the curtains and blinds can look too overpowering in a room, especially if the space is small or subjected to a lot of prints already. An ideal combination if you're opting for prints, is blinds in a single colour, paired with patterned curtains that feature the colour on the blind.
If you love the natural texture of timber, install a solid colour curtain to balance the look or create layers of texture by adding patterned drapes to contrast it. Mixing the colours and patterns of window treatments can add a lot of flavour to a room and look very artistic – when it's done correctly. Knowing what colours and patterns work best together is crucial when properly mixing curtains and blinds.
Do – Go High and Wide
One of the biggest advantages of combining curtains and blinds is how they can change the perception of the size of your windows. This is perfect if your home is quite small. A standard size window can be turned into a large one when drapes and blinds are paired well together and your ceiling made to look much taller than it really is. For example, install roman shades a few inches below the ceiling to change the height perception. Then, mantle the curtain rod at the same level as the blinds but extend it 30 – 60cm beyond the window.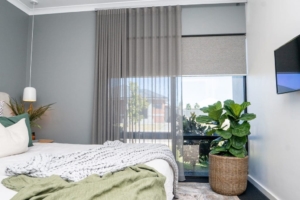 Don't – Be Afraid to Accessorise
The combination of curtains and blinds add a stronger style statement in a space and the accessories you choose should go along with this. Don't be afraid to accessorise, just keep it humble. For tiebacks, a simple fabric tieback can create a draped effect or install a wall-mounted metal or piece that can be easily hid behind the curtains. Overall decorative pieces, like huge metal holdings attached to the wall or tiebacks with tassels can look awkward against natural shades like timber.
Pelmets are another fantastic way to accessorise your window dressings and add a stylish, decorative finish. Because they are actually built into the architecture of a room, recessed pelmets hide the curtain tracks and operating components in the ceiling space to achieve a streamlined finish. Accessorising with pelmets also provides better insulation in the room and complete blockout. Whilst all window dressings can benefit, roman blinds with pelmets are most popular with their sophisticated, clean look.
Do – Make the Room Feel Cosy
Being such a powerful room feature, it's important you really consider the effect you want your paired curtains and blinds to have. You want it to feel, cosy warm and inviting so keep this in mind through the decorating process.
Fullness is important in transforming the look and feel of the space and this is created when blinds are layered beneath curtains. For a real cosy, layered effect roman blinds provide an ideal solution. They can be sheer, textured or bonded with a blockout fabric. Linen sheers are best paired with roman blinds to frame the view. Pair sheers without a heavy sheen or metallic threading with timber blinds for a more relaxed and simplified effect.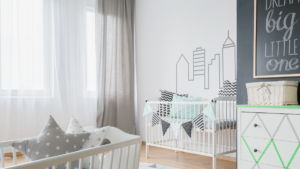 Don't – Pick the Same Curtains across the House
When you want to get your decorating sorted quickly, it can be easy to find a decent pair of curtains and use them across the whole house. But, from a design perspective, this can make the spaces seem disjointed.
Pairing blinds and curtains can tie the whole space together, so you want to make sure they match the atmosphere you want to create, and for most of us the atmosphere is different in every room. Be sure to play around with the light each space gets too; this can help you to experiment with neutral fitted sheers on different styles.
Do – Match the Curtain and Blind Colour with the Rod Colour
As with matching accessories to your curtains and blinds, it's important that the hardware complements the window dressing too. Once you have decided on the colours, make sure you specify the exact tints so the curtain rod can be matched.
High-shine rods, like bright silver or gold can look too much with curtains and blinds so avoid these. Opt for hardware with a matte finish to keep with the overall look of both styles of window treatments you've chosen.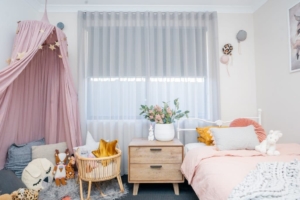 For many homeowners, windows are often viewed as an afterthought but their power to make or break a room is inevitable. Add a dressing to a window, and the room becomes brighter, softer or dynamic. When it's time to retreat in your space, Perth homeowners want to be able to control the effects of curious eyes and sunlight without completely feeling cut off. The combination of curtains and blinds can help to frame and enhance your view, whilst give you all the internal benefits too.