CurtainWorld is excited to announce we have moved into a new, larger manufacturing and showroom facility! As a trusted provider of high-quality window treatments since 1974, this is a huge moment in our company's history.
Our new location is at 67 Pavers Circle, Malaga and is three times the size of our previous facility, and we're thrilled to be able to offer even better manufacturing processes, faster turnaround times, and an improved customer experience.
With meticulous attention to detail, a wide range of high-quality products, and personalized customer service, we are thrilled to provide you with an unparalleled shopping experience. Step into our showroom and embark on a journey to reimagine your home's aesthetics with our stunning collection of curtains, blinds and shutters.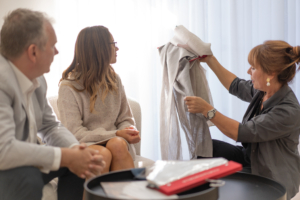 Discover a World of Style
Our showroom is designed to inspire and captivate your imagination. As you enter, you'll be greeted by a symphony of colors, textures, and patterns, carefully curated to reflect the latest trends in interior design. From classic elegance to modern minimalism, we cater to a diverse range of tastes and preferences.
Impeccable Quality
At our showroom, we understand that quality is non-negotiable when it comes to home decor. That's why we have partnered with renowned manufacturers who share our commitment to excellence. Each curtain and blind in our collection is crafted using the finest materials, ensuring durability and longevity. Whether you're searching for sumptuous fabrics, precision-engineered blinds, or eco-friendly options, we have you covered.
Endless Options
Variety is the spice of life, and we believe it applies to home decor too. Our showroom boasts an extensive selection of curtains and blinds, catering to every corner of your home. Transform your living room with elegant draperies, create a cozy ambiance in your bedroom with blackout curtains, or add a touch of sophistication to your kitchen with stylish blinds. Whatever your vision, we have the perfect solution to suit your needs.
Expert Guidance
We understand that choosing the right curtains and blinds can be overwhelming. That's why our team of knowledgeable experts is here to guide you through the process. They will listen to your preferences, offer insightful advice, and help you make informed decisions. Whether you're looking for the perfect fabric to complement your existing furniture or need assistance with measurements and installation, our experts will ensure a seamless experience from start to finish.